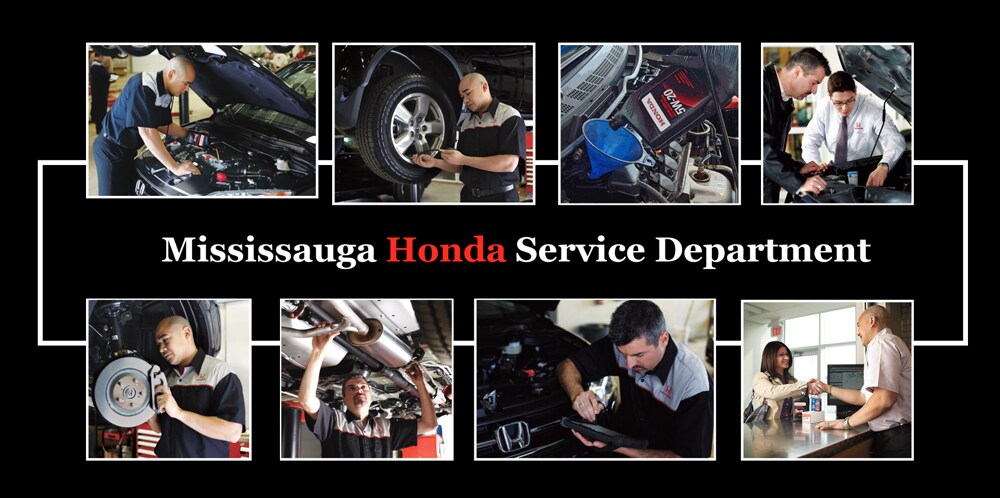 Our state of the art service center offers you:
• Technicians are trained and certified by manufacturer • CAA recommended garage • Shuttle service • Courtesy car • Short-term leasing • Drive-through car service • Original parts/accessories • 24-hour Towing service • Complete esthetics centre • Information clinic • 32 Service bays • Over 75 qualified Honda service personnel To keep your new vehicle ready use the
Maintenance Minder
to record and track when you receive the services recommended in your Owner's manual. Give your Honda vehicle the benefit of regular maintenance now, and you'll enjoy the benefits well down the road.
Our service facilities provide distinct advantages:
• expert technicians • specialized equipment • genuine Honda parts. We understand, of course, that your service experience is only as good as the people who work on your vehicle. In that, we excel. Our service technicians are the consummate experts on your vehicle. They're trained on Honda systems and components, and work on vehicles like yours every single day. Our diagnostic equipment is specialized for your vehicle, with periodic technical updates received directly from Honda. And we install original equipment Honda Parts - the ones designed, engineered and manufactured specifically for your vehicle. You can rely on Mississauga Honda for all your service and maintenance needs.
Need Service?
Book your service appointment
Quality Products
An impressive, comprehensive inventory of Honda parts; and our competitive prices keep our customers satisfied. Our knowledgeable Parts Department understands the customer's needs and strives to provide accurate information and fast delivery.
Our parts service offers you:
• OME parts - guaranteed for 1 year
• Highly qualified personnel
• Original accessories
• Performance accessories
• Large inventory
• Refurbished parts
• Gift shop